If you are looking for WordPress gallery plugins, you can rest assured – there are plenty of available options to choose from. That's completely understandable since most websites have galleries to showcase work or improve content quality.
Picking out the right gallery plugin is especially important for those who want to display their visual work. You wouldn't want your photos messed up by an ugly display, right?
The huge number of gallery plugins can be overwhelming. To help you pick out the best one, I compiled a list of the eight best WordPress gallery plugins.
Let's get right to it!
What to Consider When Choosing a Gallery Plugin?
While WordPress' default gallery is functional enough to do its job, sometimes you need a new aesthetic and additional features to maximize the user experience.
There are several points to note when choosing a WordPress gallery plugin. However, you should keep in mind that both free and paid plugins have pros and cons. Here are some elements to keep in mind when making a choice:
Popularity – check how many people who have installed the plugin and see what the ratings are. If the plugin has existed for a while but doesn't have a lot of active users, or if the majority of reviews are negative – it's probably not the best choice.
Speed – feature-heavy galleries tend to slow the website down, and it can affect user experience and SEO negatively. Therefore, when choosing a gallery plugin, consider its speed.
Features – when choosing a plugin, always consider what functionality it has. Do you need multiple pages instead of one? Does your site need pagination, lightboxes, albums, or specific navigation options? Always pay attention to the functionality the tool offers.
Usability – People love when a site is easy to use and navigate. Therefore, make sure that you have installed a plugin that will maximize your visitors' experience. What is more, you don't want a plugin that's going to be a challenge when setting up. Why work hard, when you can work smart?
Top 8 WordPress Gallery Plugin Worth Checking
Now that you know what you need to consider before installing a gallery plugin, here are eight of my plugin recommendations that are definitely worth checking out: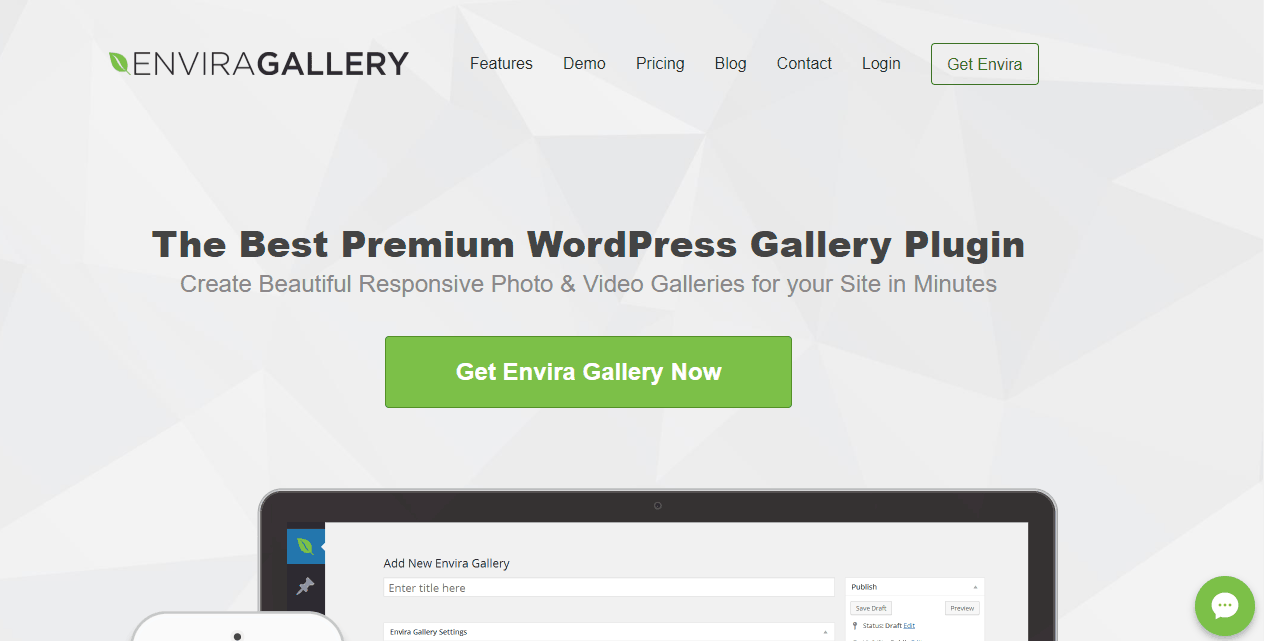 Envira Gallery is one of the most popular WordPress gallery plugins. It is a responsive plugin, that is easy to set up and use.
Not to mention, Envira Gallery is one of the fastest gallery plugins – it takes only 1.08 seconds to load.
Envira Gallery's price starts at $29 with its basic plan, although it is famous for its $99 professional plan that includes a drag and drop feature, albums, social sharing, deeplinking, videos, lightroom, along with priority support and other features.
The Good
It's fast – it only takes 1.08 seconds to load. Your site won't be slowed down by this plugin.
It is responsive – it looks good on all kinds of screen sizes.
The Bad
There is no free option for this plugin. If you need premium features, you'll have to pay up. So if you are on a budget, this WordPress gallery plugin might not be the best option.
The Verdict
Envira Gallery is hands down one of the easiest to use, responsive gallery plugins for your WordPress. It is packed with various features that will enhance your website. However, you might want to consider a different tool if you are on a budget, as this plugin is quite pricy.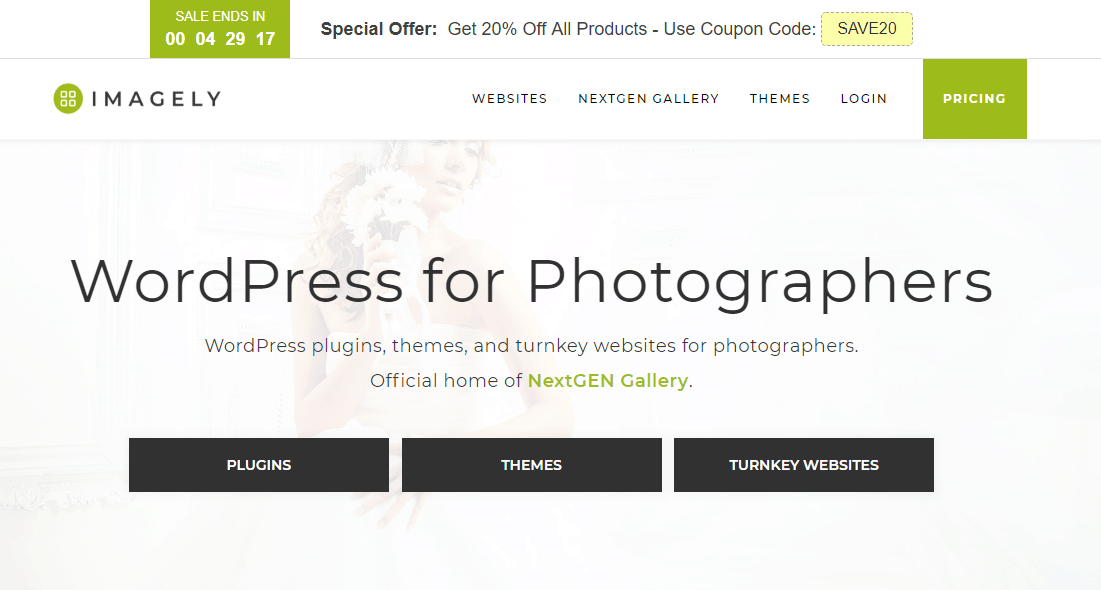 NextGEN Gallery is famous for its professional performance. With 15+ million total downloads, it is one of the most popular plugins on WordPress.
This WordPress gallery plugin has two main styles of display: slideshow and thumbnail, and two album styles: extended and compact.
What is more, it has transition effects, lightbox, and eCommerce features.
NextGEN's free version is available as a WordPress plugin. However, if you need more advanced features and functions, its paid plan starts at $79 for NextGen Plus and $99 for NextGEN Pro.
The Good
It has multiple advanced transition effects, so you can choose the one which goes best with your website's aesthetics.
Its paid plan provides eCommerce features, which is great if you're planning on selling your work.
The Bad
It has no social sharing features in the free version, and the paid plan is quite pricey.
The Verdict
Although it has paid plans, NextGEN's free plan already provides more than enough features to create an attractive and functional gallery. Its focus on image display and ability to sell photos through eCommerce feature makes it best for photographers.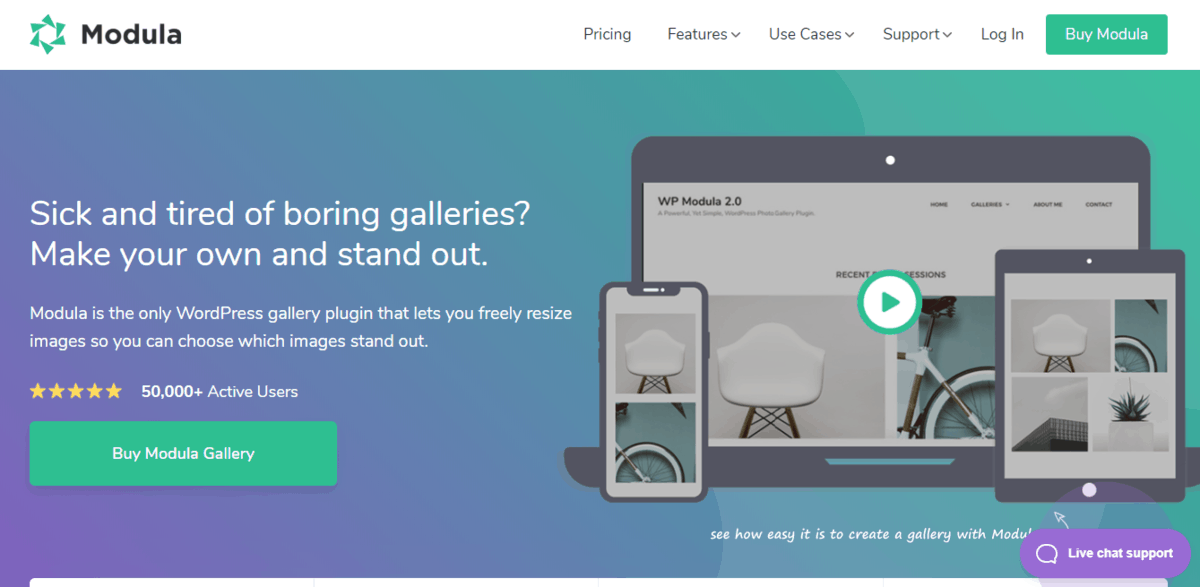 Modula lets you design your own gallery layout, integrate it into your WordPress site, and share it to your social media.
Although it has a lot of in-depth features, you can still create a great-looking gallery in a just few minutes. Modula also provides you with a responsive design, making sure that your gallery is beautiful on every device.
Modula's subscription plans start at $39 for basic, $69 for trio, and $99 for the business plan.
The Good
It gives you a lot of layout and effect variations. This way, your site will never be boring.
It provides built-in social media integration, so you can show off your pictures to a broader audience.
The Bad
The free version can only contain a maximum of 20 photos for each gallery, which is quite disappointing. If you want to showcase more images, you will have to pay up.
The Verdict
Modula is suitable for all kinds of users. However, it is most famous for its simplicity and usability. If you are looking for a WordPress gallery plugin that you can use to create a beautiful portfolio, Modula might be worth your try.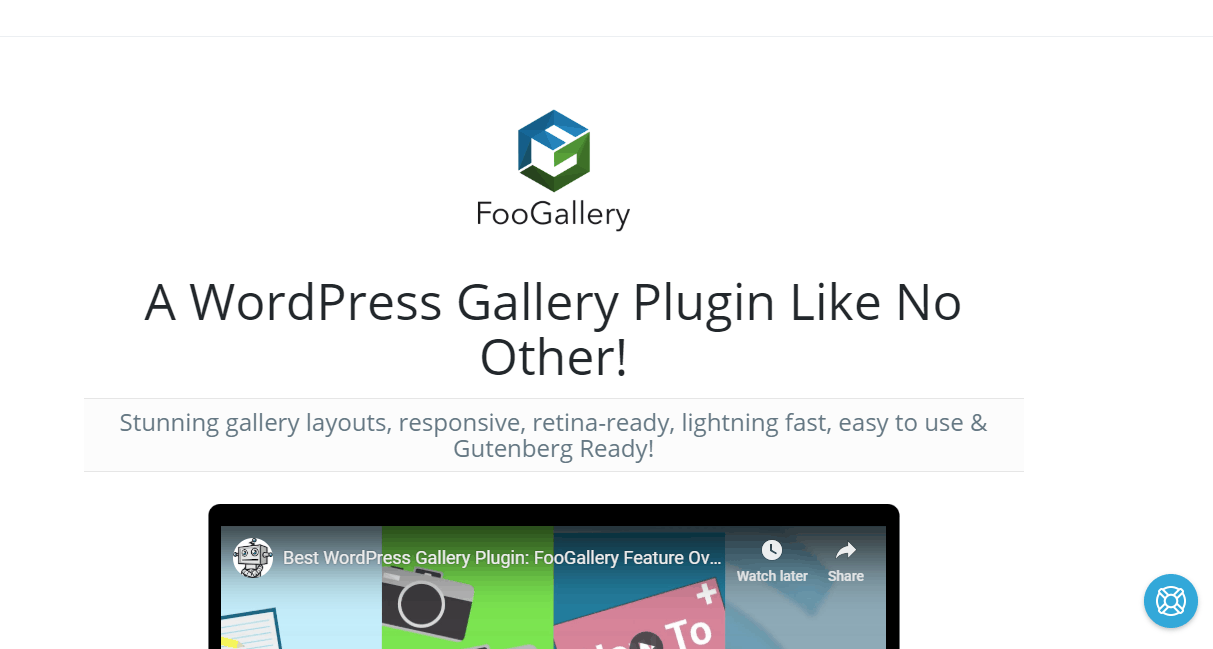 FooGallery is one of the WordPress gallery plugins that provide you with responsive design as well as easy gallery creation.
Its free plan is enough if you require a basic gallery. However, if you need a more advanced one along with a video display, filtering, and template features, you can choose its premium plan that starts at $49.
The Good
It has a simple and relatively easy-to-use design. Setting the plugin up won't be a hassle, regardless of your WordPress proficiency.
The premium plan has video gallery features. This lets you easily create a videography portfolio or similar site.
The Bad
The premium plan lacks certain features, such as social media sharing.
The Verdict
I would recommend FooGallery for those who prefer a simple user interface with limited customization. It is quick to load and easy to use, although it has no built-in social sharing features.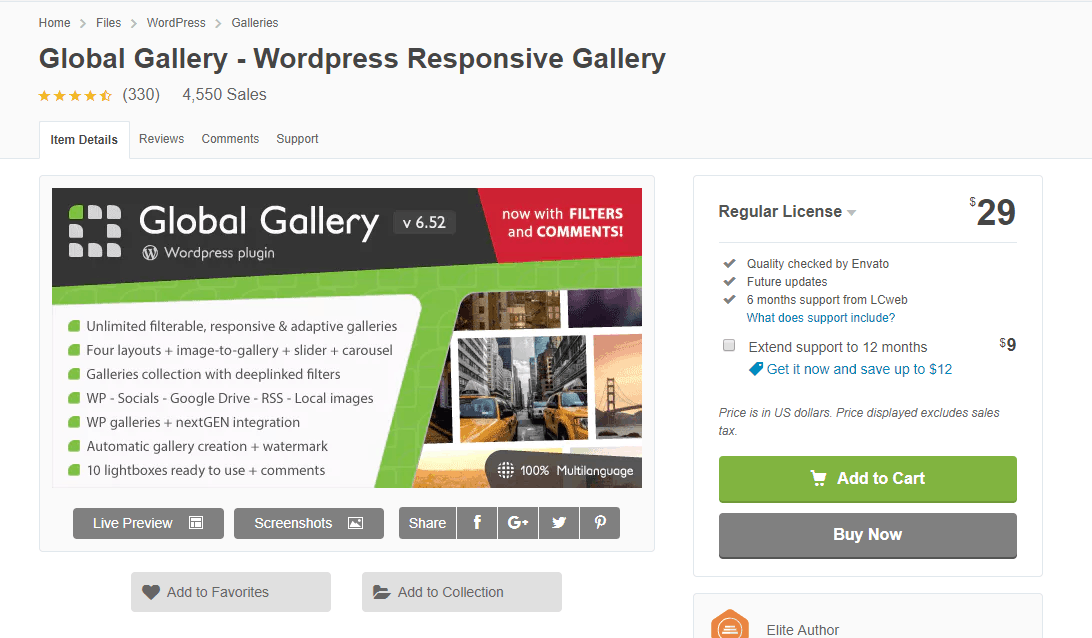 Global Gallery is a filterable, fully-responsive, and adaptive WordPress gallery plugin. Its core features include four gallery layouts, ten lightboxes, sliders, and a carousel. You can also tag images, making it easier to search for them on your website.
Global Gallery's subscription starts from $29.
The Good
The plugin is responsive, so you don't have to worry about it messing up your site's layout on mobile devices.
It has automatic updates, which is a fantastic feature. You won't have to worry about manually updating the plugin.
The Bad
The plugin has no social media sharing integration. You'll have to install a separate plugin if you want to share your images to social media.
The Verdict
Global Gallery provides you with comprehensive features that let you customize and build your own gallery. The premium plan is also relatively cheaper than most, and you don't have to update each version manually. I would recommend Global Gallery for those who are looking for an easy to use and relatively cheap plugin.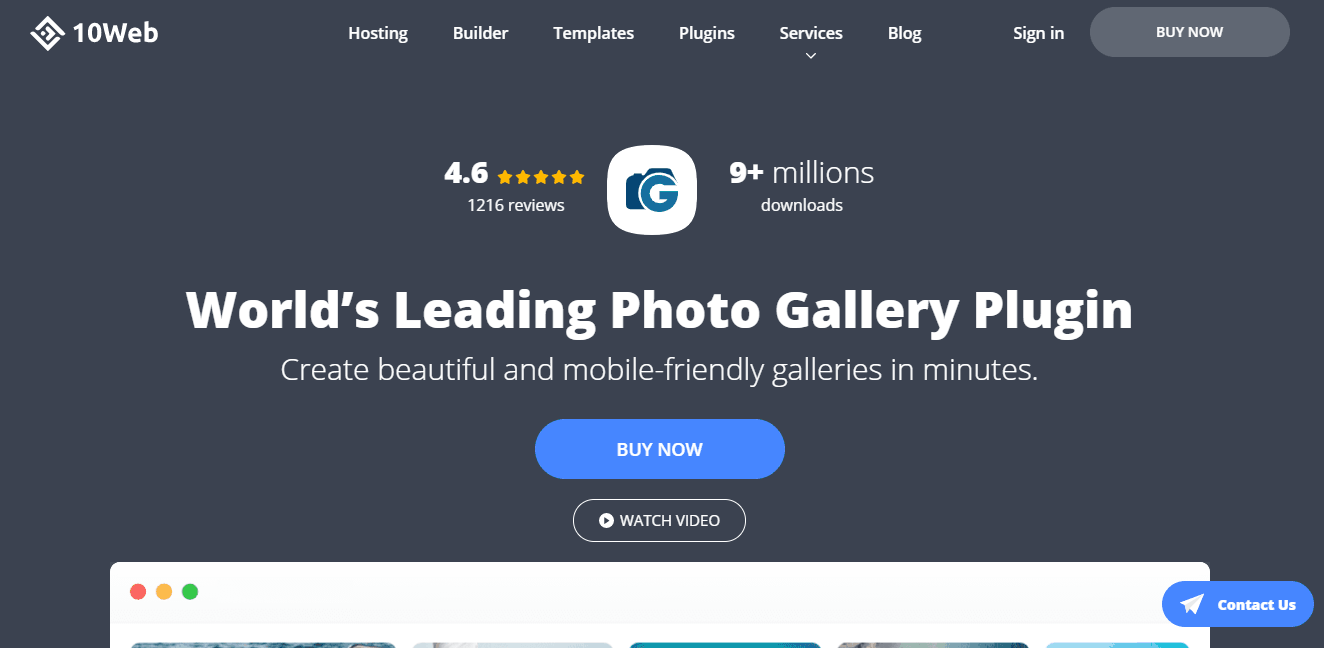 With Photo Gallery by 10Web, you can create a lot of galleries with unlimited photos arranged in various layouts. Its free plan includes video galleries, automatic watermarks, album support, and an import feature from Instagram. Pretty neat, right?
If you're looking for more advanced functionality, you can subscribe to their premium plan that starts from $40. You will get such additional features as an eCommerce plugin and more template options.
The Good
The free plan contains more features than most plugins. If you are on a budget, this plugin will be a perfect choice.
Supports multiple galleries. You have the flexibility to use this plugin to its fullest easily.
The Bad
Advanced templates are only available on the premium plan.
The Verdict
I would recommend Photo Gallery if you are looking for a plugin that can handle multiple galleries. What is more, this is a very affordable plugin. Even its free version is packed with a variety of great features that will satisfy most needs.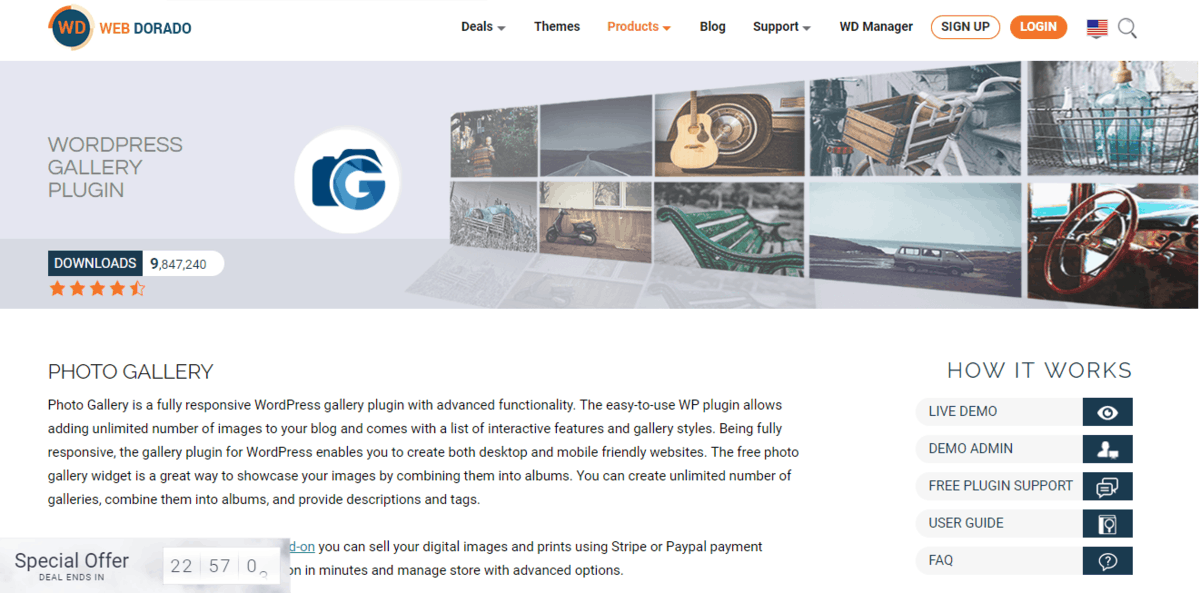 One feature that distinguishes this plugin from others is that with WD, you can include videos and images in your galleries.
The premium plan has such advanced features as social media sharing and eCommerce functions.
WD has a free plan, while the premium one starts from $30 for its personal plan, $45 for business and $60 for a developer plan.
The Good
You can combine videos and pictures in your gallery. Most plugins do not offer this function.
Powerful Facebook sharing and eCommerce features with the premium plan.
The Bad
Most of the best features are only available on the premium plan. So if you are on a budget, this won't be the best option.
The Verdict
Photo Gallery by WD is great for sites that will display a lot of images. However, most of the advanced features are only available with the paid plan. Keeping that in mind, this WordPress gallery plugin is great for professional photographers who are looking to create a stunning portfolio.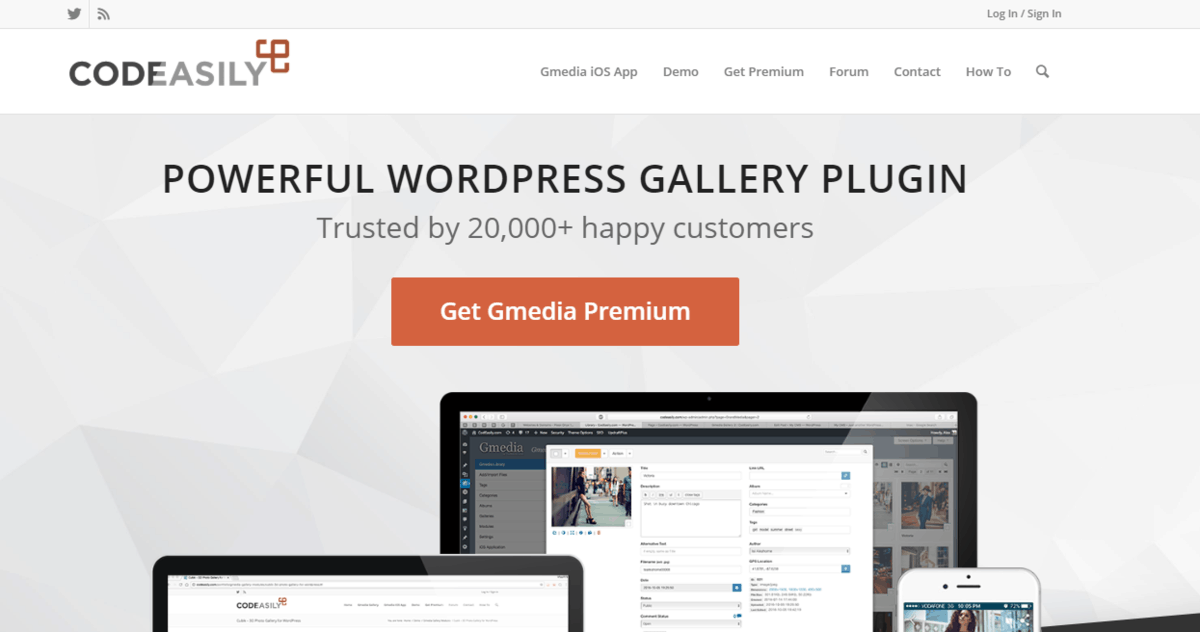 Gmedia Gallery is a comprehensive gallery plugin that offers various unique features.
This is a fully responsive plugin that allows you to display videos and share your posts on social media. It is a bit different from most plugins when it comes to usability. So new WordPress users might struggle.
Gmedia Gallery is free, but you can buy a Gmedia's license key for $29.99 for a single website.
The Good
You can display music and video on your site. A neat feature that will further enhance your website!
It is mobile responsive. The galleries will look great on any kind of screen.
The Bad
Has a learning curve. Due to its difference from similar plugins, some users need more time to learn to use it.
The Verdict
Gmedia Gallery is a comprehensive plugin offering a lot of features that are not available in plugins similar to it. You can play music and videos, which can be a very nice addition that saves you from using multiple plugins.
Try Them Yourself!
Those are the eight best WordPress gallery plugins for you to check. To ease your choice, here is the recap of what we've discussed above:
Envira Gallery – the easiest, fastest, and simplest WordPress gallery plugin to choose.
NextGEN Gallery – great for photographers who are looking for a comprehensive plugin for their work.
Modula – in-depth features and social sharing.
FooGallery – a simple image gallery with little complexities.
Global Gallery – fully-responsive gallery plugin with tag features.
Photo Gallery by 10Web – focuses on image presentation, allows multiple galleries.
Photo Gallery by WD – has video and photo galleries.
Gmedia Gallery – has a music and video player.
So, have you decided which WordPress gallery plugin to choose to spice up your website?