Nowadays, almost everyone can access the internet through their gadgets. As a response, there's a lot of newly-emerged digital marketing strategies such as email, social media, and mobile marketing, along with many others. As the field grew, so did the number of sales blogs that cover the many different aspects of marketing and entrepreneurship.
In this article, I am going to provide a list of the ten best expert sales blogs for an aspiring entrepreneur to learn from, along with three of their articles I highly recommend reading.
Why You Should Know The Latest Digital Marketing Strategies
Why are digital marketing strategies essential? In 2015, social networks alone earned around $8.3 billion from advertising. Moreover, almost half of the world's population (3.03 billion people) owns at least one social media account. This proves that social media and similar platforms are an ideal place for marketing. As proof, Facebook supports more than 65 million businesses, with 5 million active advertisers on the platform. Also, 89% of companies with more than 100 employees use Twitter as one of their marketing platforms.
Keeping up with the latest trends is vital if you want to stay ahead of the competition. You need to learn about the tools, strategies, and best practices to use that will boost growth. Whether you've already established a well-running business or just started one, following the best sales blogs is a great way to stay on top of the marketing game.
Top 10 Sales Blogs
I've curated ten of the best sales blogs that you can add to your reading list to boost your business and marketing skills: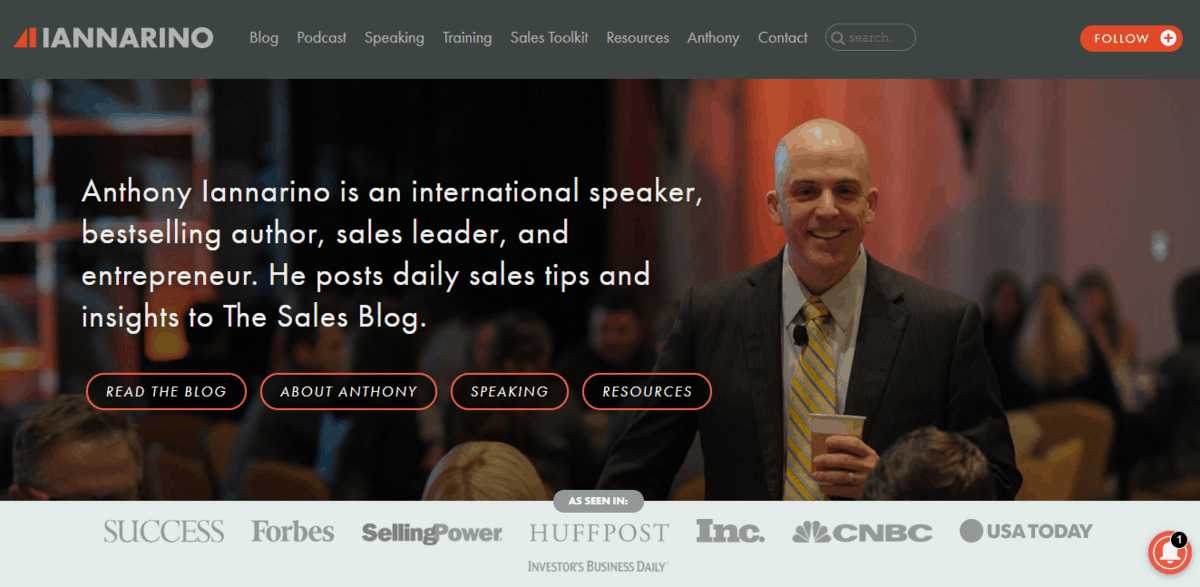 The Sales Blog, created by the best-selling author, speaker, and sales leader Anthony Iannarino, is a blog covering sales, management, public speaking, leadership, and business values. His blog has been featured on large news networks such as HuffPost, Forbes, and CNBC. In his blog, he shares advice and insights and offers inspiring ideas along with self-help suggestions. You might want to check The Sales Blog if you're currently working on your business' sales and management, or if you want to learn how to be a great leader and entrepreneur.
Article Recommendations: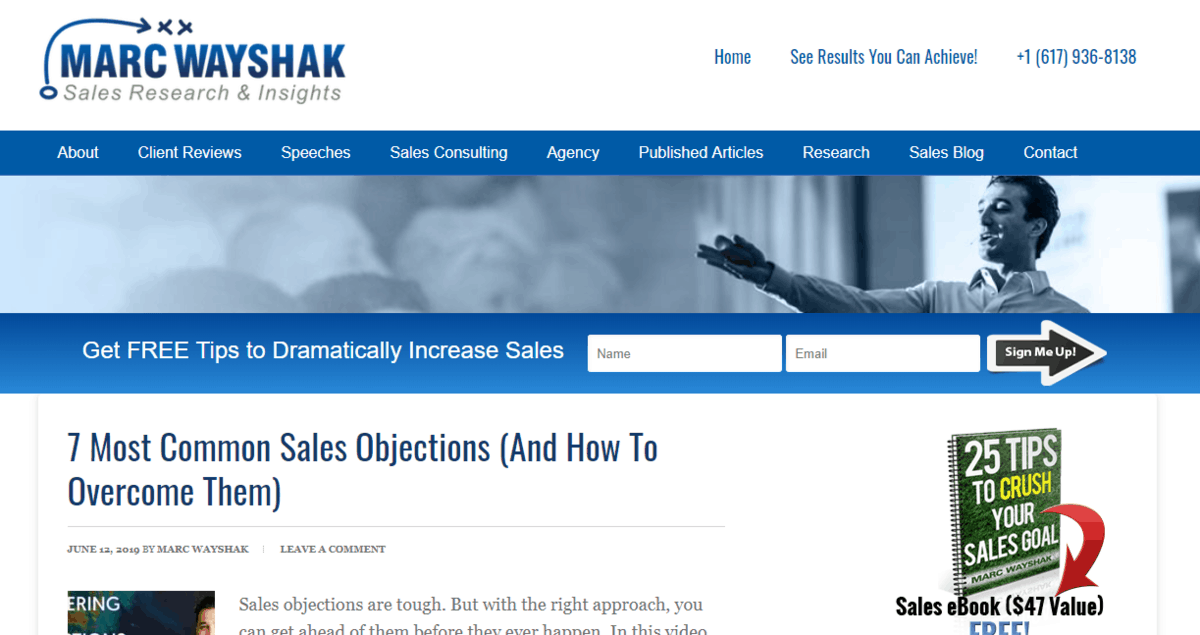 Bestselling author and sales strategist, Marc WayShak covers a wide range of sales topics in his self-titled sales blog. He also provides a consulting and B2B agency service through PipeRev. It generates high sales for clients through tools such as cold emailing and LinkedIn advertising.
This blog is recommended for those who prefer to watch videos instead of reading as the majority of content is in the form of quick-learn videos.
Article Recommendations: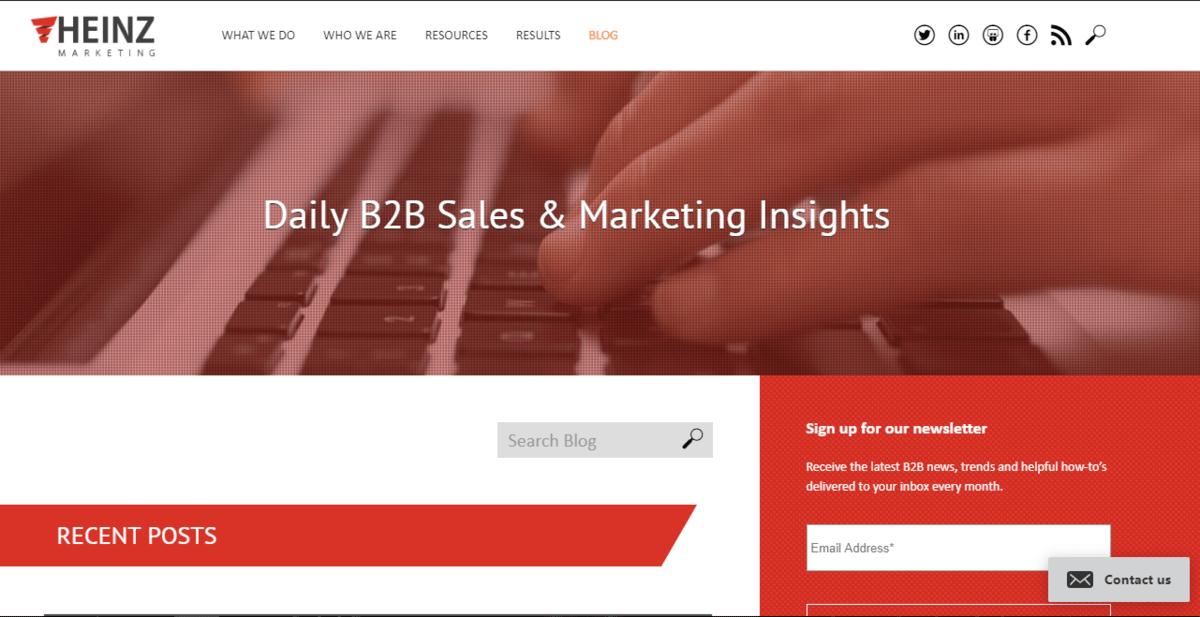 Founded by the nationally recognized, award-winning author Matt Heinz, HeinzMarketing is a sales blogs covering topics about marketing, including sales enablement content strategy, and what marketing tools to use. It has won several awards such as SMLA's 50 Most Influential People in Sales Lead Management in 2014 and Top Sales World's Top 50 Sales & Marketing Blogs in 2019.
There you'll find iconic articles like "How I Work" – featuring interviews with professional salespeople about how they work and "App of The Week" articles that include reviews of apps used in sales strategy.
Article Recommendations: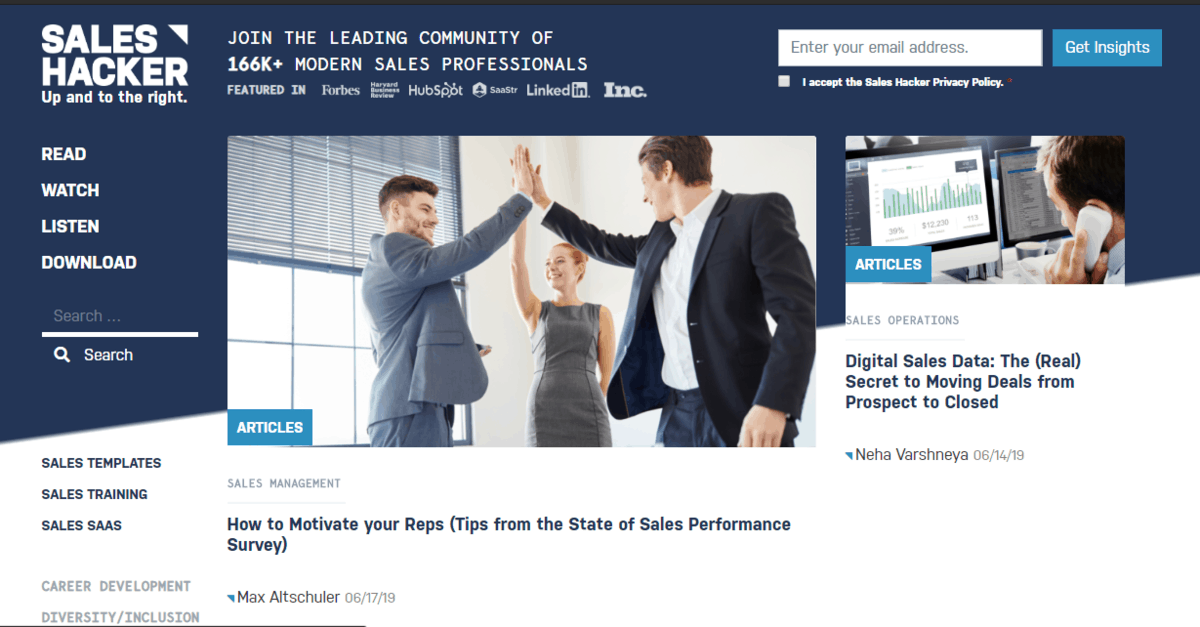 SalesHacker is the right place if you want to learn about B2B sales strategies to get your business ahead. It provides a wide range of articles, videos, and podcasts about leadership, career, business processes and management. SalesHacker articles also have been featured on news sites such as Forbes, HubSpot, and LinkedIn.
Article Recommendations: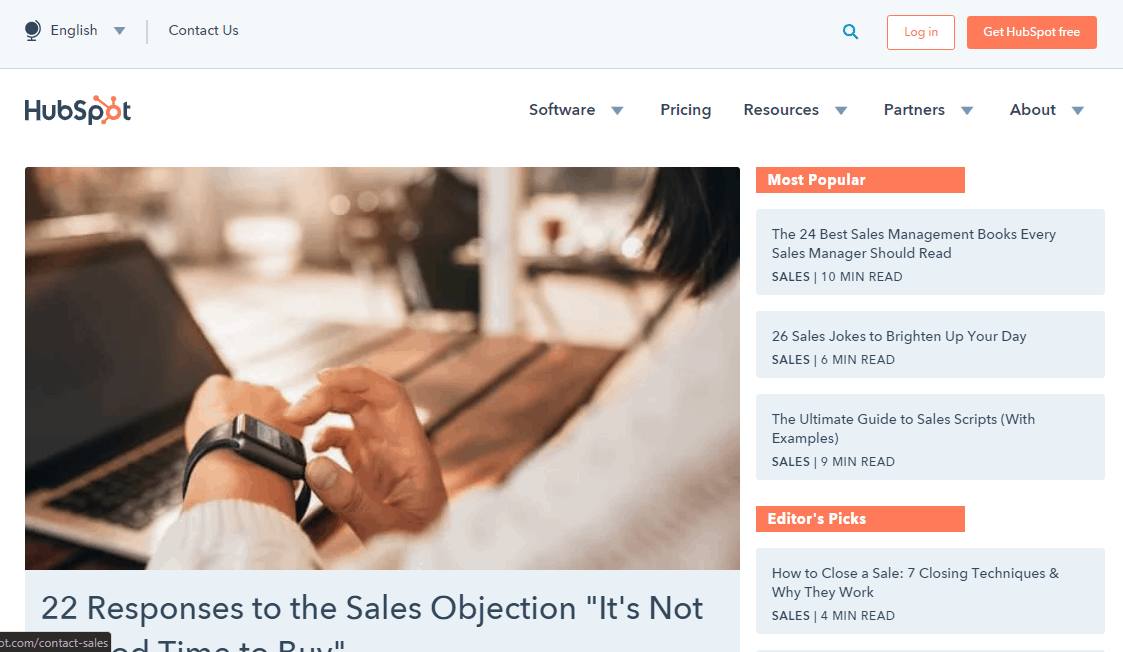 With 60,500 customers from more than 100 countries, HubSpot is famous for its inbound marketing, sales, and SaaS articles aimed to help businesses level up. Their pieces are about everything marketing, from sales to customers lifestyles. HubSpot also offers blogging guidelines and customer case studies. You can even request a speaker from HubSpot to come to your event.
HubSpot has received awards like Alignable's Most Trusted Small Businesses in 2018 and Stacklist's The Best Marketing & Sales Tools for Startups in 2018. HubSpot is also famous for its company culture and diversity, proven by an award from Comparably which named HubSpot as The Best Company for Diversity, Women, and Culture.
Article Recommendations: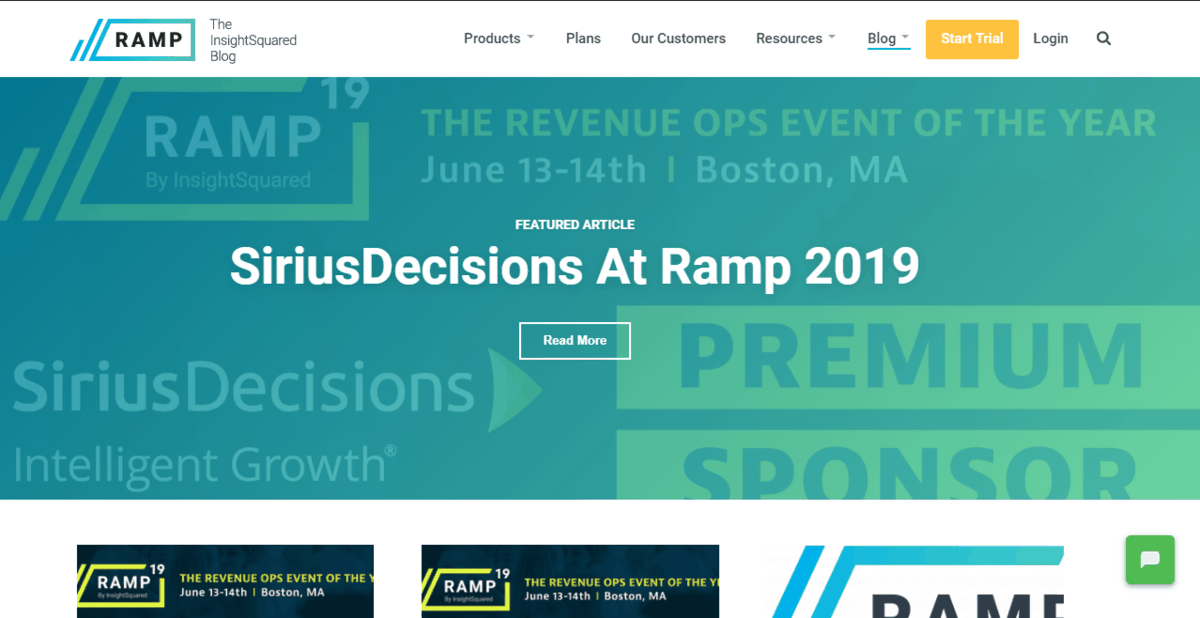 Ramp – The Insightsqared Blog is a sales blog that focuses on data and statistic analysis to impact sales, management, and marketing. Insightsquared also provides free apps, webinars, and a podcast as a way to improve sales development with new knowledge. Thanks to their excellent performance, they were named #1 for overall Sales Analytics and Satisfaction for Business Intelligence by the user review site G2Crowd. If you believe that hard data and analytics can improve your business, you might want to check out their site and learn more.
Article Recommendations: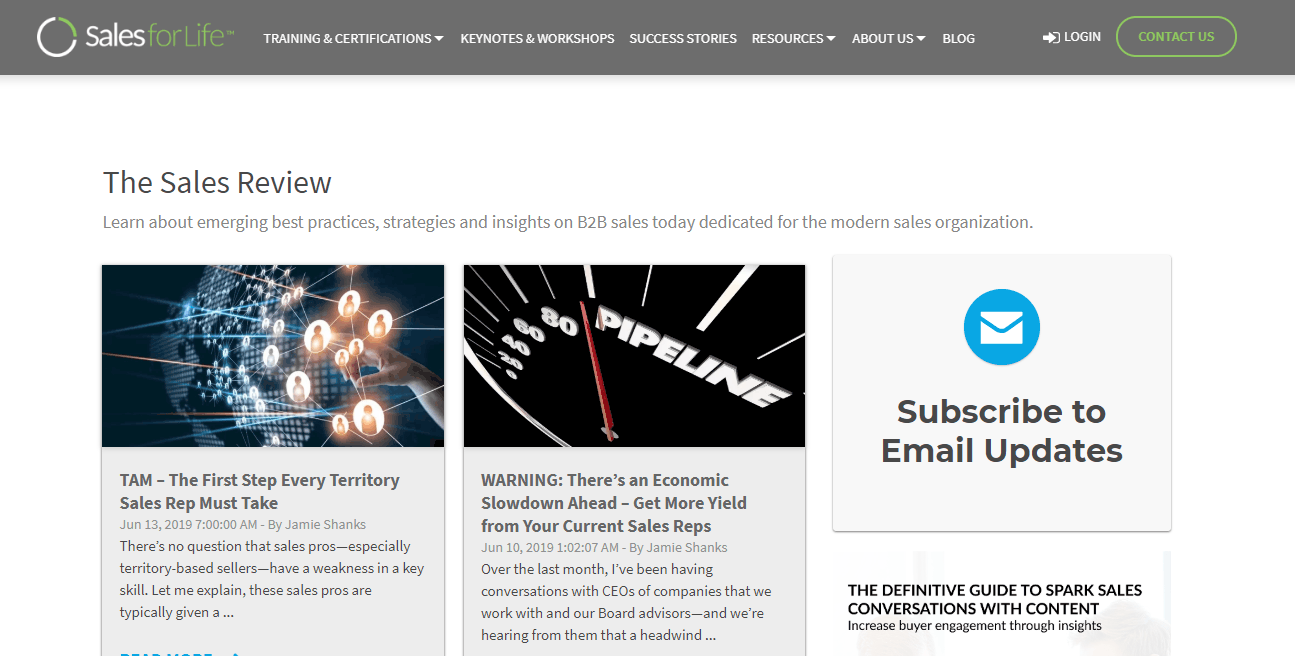 Sales for Life is a blog that focuses on modernizing customer and sale practices by changing the approach from analog to digital. Their program includes speaking engagements, workshops, and training on digital and social selling.
They also have webinars which cover exclusive topics about sales, presented by various notable speakers from different platforms such as HubSpot and Sandler Training. Sales for Life was recognized in the Top 50 Startups in Canada's Top New Growth Companies in 2016 list.
Article Recommendations: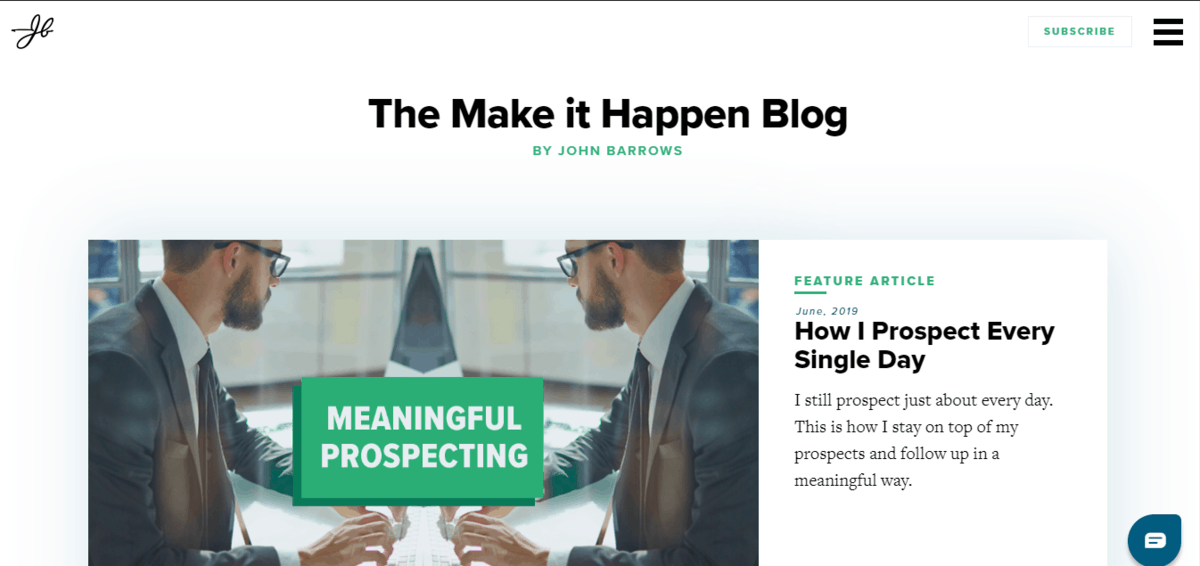 If you are a salesperson wanting to discover new techniques, resources, and selling tips, you might want to check out the Make it Happen sales blog by John Barrows. Having performed as a sales coach for companies such as SalesForce, Twilio, Box, and LinkedIn, he provides advice, training, and webinars on how to be a better sales leader. You can also subscribe to his podcast to get more of what he has to offer.
Article Recommendations: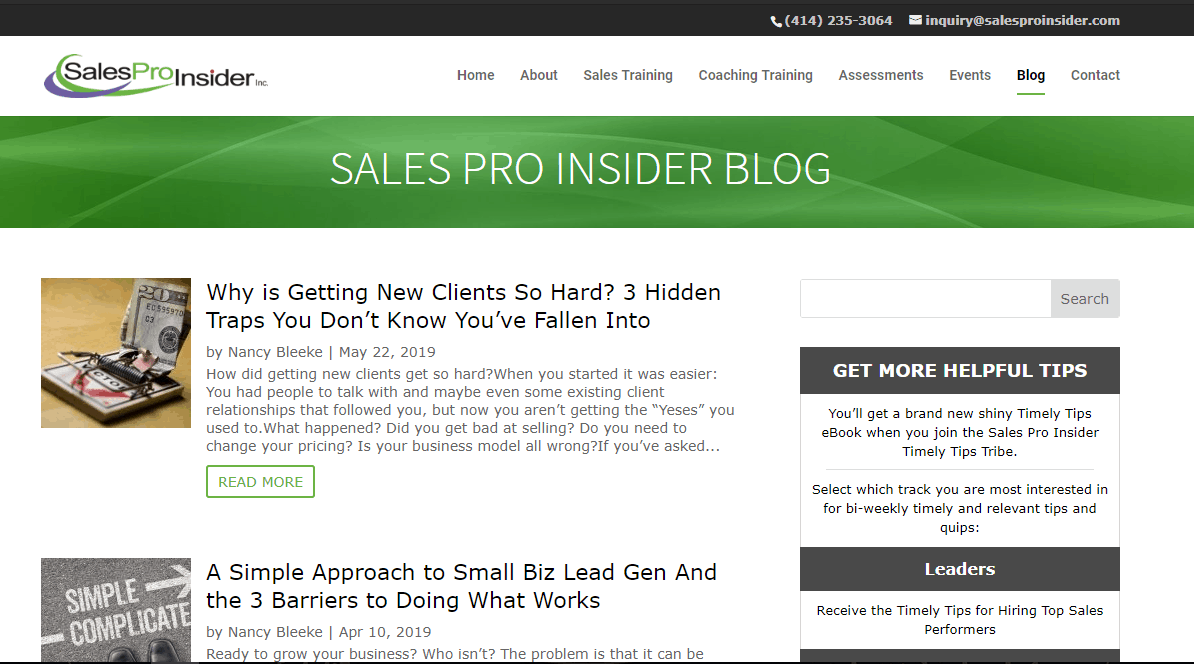 Found by Nancy Bleeke, Sales Pro Insider is a collaborative consulting team that covers sales topics like training to how to be a better salesperson, or how to increase your sales numbers. Their training strengthens competence and confidence, offers tools, tips, and techniques to prepare you with the must-have sales skills.
Article Recommendations: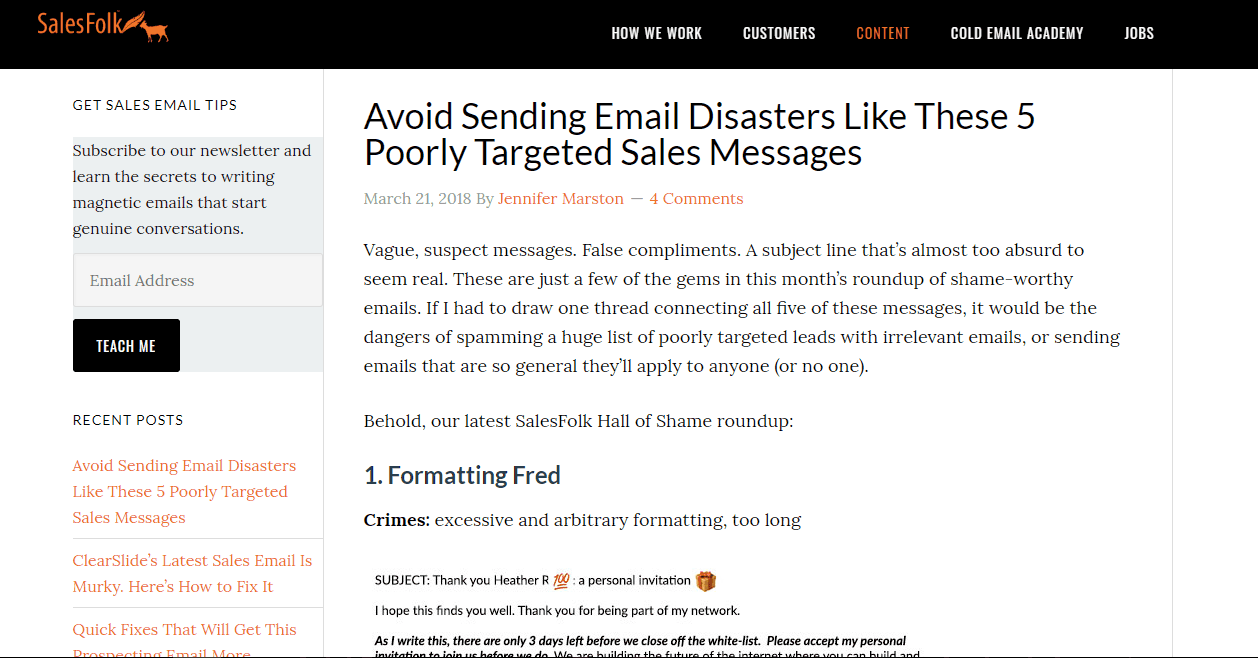 SalesFolk helps write sales emails that increase reply rates by 300% or more. Having been featured on news sites such as Forbes, NBC, and Harvard Business Review, SalesFolk also provides a guide and showcases a "Hall of Shame," on which they write the things you should avoid doing the most. I recommend SalesFolk for those who like learning by example, be it good or bad.
All in all, if you are in for a concise and casual read to improve your sales game, then SalesFolk should be on your reading list.
Article Recommendations:
Happy Reading!
These are the ten recommended sales blogs that you can read and learn from to improve your business and become a better, aspiring entrepreneur. Here's a quick recap:
The Sales Blog – Daily insights about sales, motivation, and business tips from Anthony Iannarino.
Marc WayShak – For those who like watching videos instead of reading. Check on Marc WayShak for sales articles that cover a vast range of topics.
Heinz Marketing – The famous Heinz Marketing blog provides marketing and sales strategy tips, along with articles such as "How I Work" and "App of The Week" as an additional study of the best practices in the industry.
Sales Hacker – Your "go-to" read if you want to learn everything about B2B sales, from videos, articles, to podcasts.
HubSpot Blog – Famous for its inbound marketing, sales, and SaaS, the HubSpot Blog provides sales guidelines, examples of case studies, and coaching.
Insightsquared – The best place to go if you're looking for an analytics and statistics-driven blog. It provides you with free apps, webinars, and podcasts to help your business improve.
Sales for Life – Focuses on improving your skills to help you become a better sales leader through speaking engagements, workshops, and a training center.
John Barrows Blog – Having been a coach for large companies, John Barrows provides training, webinars, and a podcast to help you become a better sales leader.
Sales Pro Insider – A collaborative consulting sales team that helps improve your skills as a salesperson as well as increase your sales numbers.
SalesFolk – A recommended blog if you're looking for example-oriented, straightforward writing that focuses on increasing your sales email open rate.
So, are you ready to boost your sales game?