There are few ecommerce platforms that are better known than Shopify. In this article, I am going to explain how does Shopify work, its advantages, and how to create an online store by using this platform.
The idea of Shopify was born around 2014 when a group of snowboarders were looking for a way to sell snowboarding equipment to other enthusiasts around the globe. However, they found that at the time, online marketplace platforms weren't sophisticated enough to accommodate their needs.
This is why Tobias Lütke, Daniel Weinand, and Scott Lake decided to establish an ecommerce platform to help anyone create a personalized shopping experience. This idea soon became Shopify.
Let's begin!
So What is Shopify and How Does it Work?
Shopify is a platform that provides an ecommerce website builder for selling, shipping, and managing any type of product to buyers around the world. All this is done through the admin panel of your site where you can add products, process orders, and manage data.
Since 2006 Shopify has grown into a team of more than 4,000 people working across five offices in North America. Currently, Shopify hosts around 800,000 active stores with $100,000 billion worth of sales around the globe.
When using Shopify, you don't need any web building or coding experience. The platform provides hundreds of templates that are ready to use. You only need to add your logo, images, and videos to compliment the overall look, add products, and set up some other details.
Pricing and Features

Shopify's pricing plans range from $29 to $299 per month.
If you're an entrepreneur looking for a place to start, the Basic Shopify plan ($29/month) can cover your needs. This plan provides two staff accounts, unlimited products and listings, 24/7 customer support, free fraud analysis, a free SSL certificate, and much more.
For established ecommerce businesses, The Shopify Standard plan for $79/month is a great way to grow with additional features such as gift cards and coupons. This plan also comes with a shopping cart recovery tool, which helps reengage customers who abandoned their carts.
If your business has already grown big with and gathers considerable revenue, you might want to level things up with Shopify's $299/month advanced plan. It covers the benefits of both the basic and standard plans and offers additional features like 15 staff accounts, an advanced report builder, and a third-party calculator for shipping rates to improve customer experience. Shopify's advanced plan also has the lowest transaction fee and credit card rate compared to the other plans as well.
The Good
It's

simple to use

. Creating a Shopify store doesn't take long. Its easy controls offer a great experience when building and selling.

With its Lite plan ($9/month), Shopify ranks as one of the

cheapest

online selling platforms that use a hosted solution. Meanwhile, the basic plan starts at $29/month and covers almost everything a startup store might need.

Shopify has an

attractive and responsive design

. It provides 10 free ecommerce templates with each having two to three different designs. However, if the free themes don't quite suit your needs, you can buy their premium designs ranging from $140 to $180. Also, before you ask, yes they are mobile-friendly.

It is

dropshipper-friendly

. Shopify offers a large range of dropshipping apps and provides a

free online webinar on dropshipping

which covers the business in-depth for everyone to learn. The platform supports Ordoro and Oberlo – two popular dropshipping apps.

24/7 support options

. You can get in touch with Shopify's technical support 24/7 through email, live chat, or phone. There is also a knowledge base if you feel like troubleshooting yourself.

Shopify

includes a free built-in mobile shopping cart feature so shoppers can buy your goods from any device. Shopify's themes are also just as beautiful on mobile as they are desktop.

With

Shopify Payments

as the platform's in-built payment option, you don't have to worry about the transaction fee that comes from using credit cards. Alternatively, Shopify also supports over 100 third-party 'payment gateways' to process card transactions.
The Bad
To get advanced, or niche-specific features you have to install add-ons which can be

expensive.

Installing three can double your monthly fee.

Shopify charges a

transaction fee

for each order. The fee ranges from 0.5% to 2.0% depending on the plan you choose.

It's hard to customize Shopify's themes in-depth because they're built on Shopify's own PHP language – Liquid.

You can't avoid transaction fees if you're using a third-party payment gateway.

Shopify doesn't provide email hosting. So you won't be hosting a domain-based email address such as

info@shopname.com

.
The Verdict
Considering both the good and bad sides, I would still recommend Shopify as it is practical and effective. Shopify allows you to make a sophisticated online store with a few easy steps, and for a fair price considering the benefits and features that you'll get. It also comes with attractive themes and responsive design, which makes it suitable for any gadget.
I also recommend Shopify for those who don't have their own products because of the integrated dropshipping apps. Lastly, even though Shopify has its critics due to the transaction fees, it has a built-in payment option, making management much more comfortable.
Shopify can be useful for any entrepreneurs out there – those who already have an established business or are just starting out.
How to Create an Online Store With Shopify?
Now that you know the platform better, you'll learn how does Shopify work – I will walk you through creating a personalized online shop:
Step 1. Set Up Your Account
Visit Shopify's website and create an account by clicking the 'Start Free Trial' button.

Before you start the 14-day trial, Shopify will require you to register. Here you will also pick your store name, which has to be unique.
After that, you will be asked to enter some basic information about your store.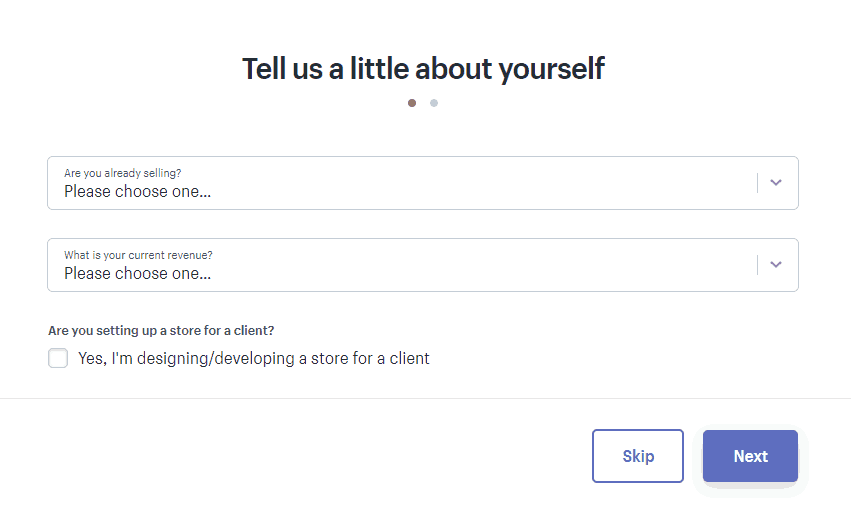 Finally, fill in the standard payment and billing details. After you're finished, click Enter My Store.
Step 2. Configure Your Store
After signing up, you will be directly brought to your store's admin panel. You're on your way to learning how does Shopify work, and mastering it! Time to customize your store's look, upload products, and set a preferred method of payment and shipping.
It will look more or less like this:
As you can see, you can easily add products, track orders and get to know your customers just by clicking the sidebar. Shopify also provides marketing and analytics tools to help your growth.
Step 3. (Optional) Add a Custom Domain Name
You can always use Shopify's provided free subdomain, but a domain name is essential if you want your store to be widely known and representative. Here you can either buy and activate a domain with Shopify or get it from another registrar and transfer it to your store.
Step 4. Choose a Theme
On the admin panel, select the Customize theme option to access the theme section.
You can pick either a free option, paid, or even upload your own.

Shopify has its own official theme store that comes with a comprehensive list of features and customization options. This means that when modifying your theme, you don't have to touch a single line of code.
The premium themes come with more options, but you can create an attractive looking store just by using the free ones.
Follow these steps if you want to change the look of your store:
1. Pick a Theme
Visit themes.shopify.com and look for a theme you like.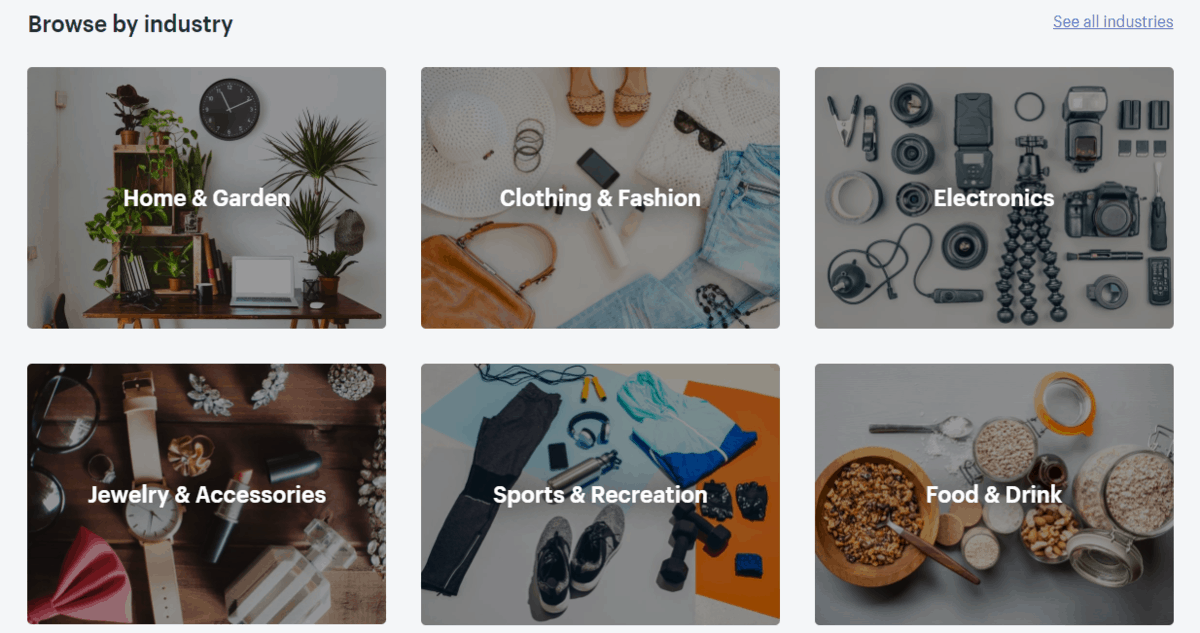 Shopify's themes are also available on sites like TemplateMonsters, ThemeForest, and Envato. You can filter and order the themes based on price, time of creation, or popularity.
2. Review and Function Check
Make sure that the template has all the features you need, for example, customer testimonials, promotional banners, and others.
Check if the theme is responsive, SEO and mobile-friendly.
If you need more information, you can scroll down and check what others think about the theme in the review section.
3. View The Demo
Take the chance to view the theme's demo, to see how does the Shopify theme work, how it looks, and if it is what you're looking for.
If your selected theme has various styles, you can try them out one by one in the demo.
4. Install The Theme
Click 'Add theme' to upload the new look to your store.
After you've installed it, Shopify will link you back to the admin panel where you can customize it further.
Step 5. Populate Your Store
When you're done with your store's look, it's time to start adding products. Click 'Products' on your sidebar, continue to 'Add Products.'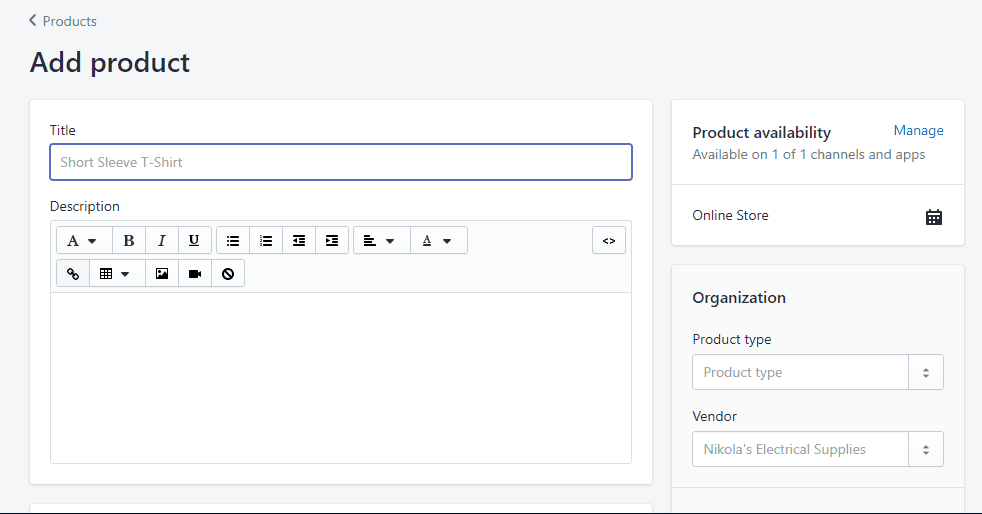 Shopify provides a lot of forms to fill, so make sure to use them to your advantage to boost sales. Start by adding titles, descriptions, availability, type, and vendors.
After that, you can upload product photos by clicking 'Upload image.'
You can add the price and other information next. Make sure to be as clear as possible when providing details about your products.
When all is finished, make sure to click 'Save' at the top or bottom right of the screen.
Step 6. Final Touches
Before you can get your shop operational, you need to make sure that the essential things such as shipping fees and taxes are squared away.
Shopify sorts their shipping and tax rates by regions, with your origin country and 'Rest of the world' as the default. However, you can either customize or add regions based on what country you ship to from the Settings.
Here's how you configure both shipping and taxes:
Shipping
Go to the

'Settings'

page on your sidebar.

Click

'Shipping.'

There you can see your origin address and default shipping zone. Click '

Add shipping zone.

'

Add the '

Zone name

' you prefer. Your customers won't see this.

Manage the countries and regions you want to include.

Set your shipping rate based on either

price

or

weight

.

Once done, click

'Save.'
Tax
Go to

'Settings'

on your sidebar.

Click

'Taxes.'

Find your origin country and your shipping zone.

Click '

Set up'

on a shipping zone you want to modify.

Add the amount of tax you want to charge to each zone.

Click

'Save.'
Step 7. Sell Like it's Black Friday
Launching your store might feel overwhelming, but with the help of platforms like Shopify, anyone can start their online business.
Before you launch your website, you might want to recheck everything. First and foremost, make sure that there are no broken links, and your product images and descriptions are placed nicely, where they belong.
Also, don't forget to check your payment gateways and contacts so customers won't have trouble buying from or contacting you.
Once these are done – your shop is ready to go.
Wrap Up
It is an ecommerce platform that provides a personalized online selling experience for everyone. If you're looking for an easy to use, reliable service, highly flexible designs, and a dropshipper-friendly solution, Shopify is a platform I would recommend.
So, how does Shopify work? Creating an online store doesn't take much time at all, you can do it by following these steps:
Set up your account.

Configure your store.

(Optional) Add a custom domain.

Choose a theme.

Populate your store.

Add some final touches.

And sell like it's Black Friday.
With Shopify, a personalized online business is easy to build. So, are you ready to start your store?