If you are a professional looking for work, having a portfolio is an absolute must. It doesn't matter whether you are a graphic designer or a content writer – having an online portfolio will increase your chances of getting hired for your dream position!
Not sure how to make a portfolio? No worries, it's a lot easier than you think!
In this article, you will learn all the tips and tricks on how to make an online portfolio to kickstart your career!
Why is Having an Online Portfolio Important?
There are plenty of reasons why having an online portfolio is important. Here are some of them:
It is convenient.

Having an online portfolio doesn't need you to compile all your physical work into a catalog or print it.

An online portfolio is easy to share. You can easily promote it with your social media by providing your domain name for more exposure.
It opens you to a wider audience. The internet allows your online portfolio to be easily accessible to everyone through search engines such as Google.
When creating an online portfolio, you will have full control of the content you share. You can only showcase your best work.
Online portfolio lets you take advantage of various marketing practices such as content marketing and SEO. With these tools, you can build brand awareness and reach more potential employers.
What Do You Need to Make a Portfolio Online?
To create a portfolio, you will need to use a website builder or a content management system. I always recommend going with the time-tested option and choose WordPress. It has thousands of useful tools and themes. You can easily build a beautiful, powerful website to store your content. You can make use of such portfolio themes as

Javelin

to create a website in just a couple of easy steps.

Don't forget that to launch your website you need high-quality hosting services. I recommend

Hostinger's Premium Shared Hosting

. This plan provides you with big storage space, unlimited bandwidth, and weekly backups. Sounds great right?

Next step is to pick out a suitable domain name. It's like an address to your website. Make sure to pick a memorable, creative domain name that represents what you do.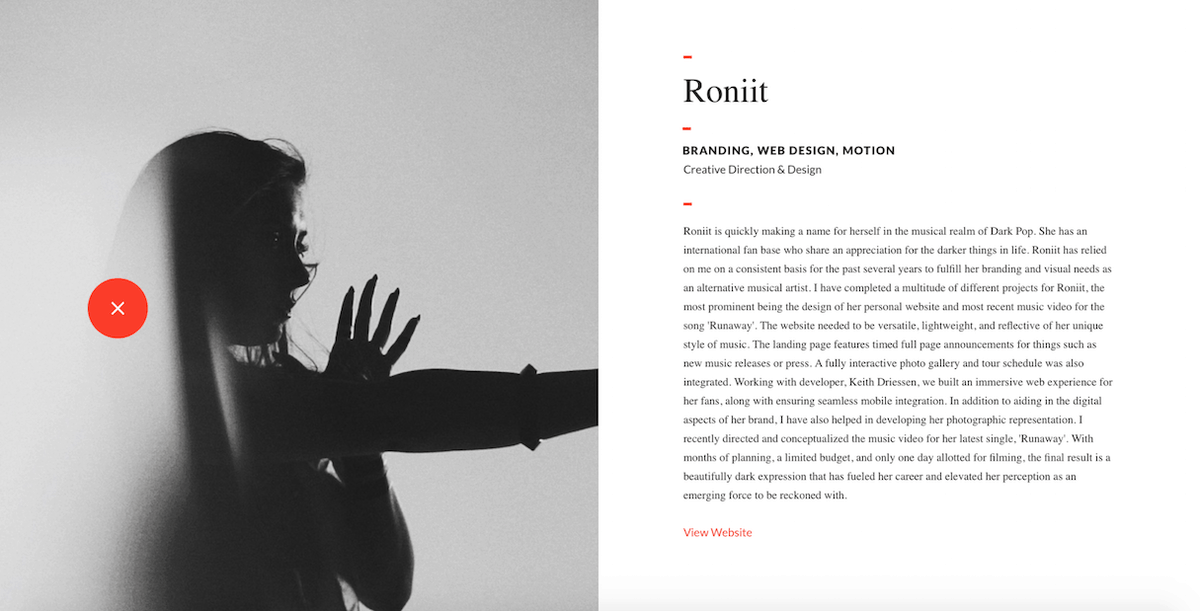 10 Great Tips to Help Your Portfolio Stand Out
So, you're ready to start making your portfolio! Here are some great tips to make your portfolio stand out and ensure you get all the best job offers.
1. Only Show Your Best Work
People are usually too eager to showcasing all their works and not providing any context. Those are the commonly found mistakes in making a portfolio.  
A portfolio is all about quality, not quantity. Showcasing one massive, successful project is better than ten sub-projects with few to highlight. Make sure you've picked only the best and proceed to put them on your website!
Providing context to your work also an important thing to note. Talk about the projects that you've delivered: what it's all about and how you finished it.
Context provides value to your work.
2. Highlight Your Personality
People may not care who you really are until you show them what you're capable of. For that reason, you might want to catch their attention with a brief, yet quirky introduction.
Here's one of the combinations that rarely fail:
"A decent photo of yourself + your name + a catchphrase of what you do"
You can modify this part accordingly to what suits you best. Just remember, stay precise and don't over-explain.
3. Don't Forget Mobile Users
Most people browse the internet on their mobile devices. If your website is not optimized for a mobile phone, you might lose traffic and potential job opportunities.
Make sure that your website looks and works well on both desktop and mobile devices. Do so by picking a responsive theme, ensuring quick loading speed and mobile-optimized content.
4. Go High-Res or Go Home
Providing the best quality of your work shows how serious you are.
If your portfolio consists of visual work, make sure that you always post high-quality, high-resolution images. Displaying pixeled images will only make you look unprofessional.
5. Make it Fast
Let's be real, no one likes a slow loading website. This is why website speed is important for both SEO and visitor experience.
Don't get tricked into using loading screen as this only makes your visitors' experience worse. Be precise, you need to be able to give them real information as soon as possible.
Use such tools as Pingdom to see how fast your website loads. If the speed isn't optimal, make use of analytics tool and improve your website.
6. Talk About Your Clients
If your previous contracts allow it, showcase who your clients were. Even better if you have a section of testimonials, to show your previous clients were happy with the work you provided!
7. Be Transparent With Prices
Always make sure to have an estimated price table. This way you and your potential clients waste time. If your prices are clear from the get-go, you'll only attract customers who are fine with the price tag.
8. Be Social
Make sure you are easy to reach. Implement a Contact, such as Contact Form 7, on your website, provide your email, social media accounts and so on.

Time is money, so the faster you get in contact with potential clients, the faster you will get work.
9. User Experience is Important
Although portfolio sites are usually very simple, make sure yours is easy to navigate and understand. Nobody likes websites that feel like a maze!
10. Show What's Behind the Scenes
A lot of people actually enjoy knowing what's going on behind the finished goods. Providing your viewers with photos or videos about the work process is a great move to make your clients feel even more engaged with what you're creating.
Ready, Set, Go!
This ends our guide in making your personalized online portfolio.
After you're reading this, you might conclude that an online portfolio indeed takes a while to build. However, it's always worth it to make. Not only that a good portfolio helps you to be easily accessible through the net, but it also helps you to create an online presence. This is an opportunity a physical portfolio rarely has.
An online portfolio is a tool that you can use to bring the best out of yourself. With a great portfolio, you'll have jobs knocking right in front of your door.
So, have you decided what kind of portfolio you're going to build?