When you decide to start a website, you need to find a hosting company which can provide server space. There are many types of hosting services made to support different projects. In this article, I'll cover two types of hosting in-depth: shared hosting vs VPS hosting.
I'll cover the definitions, main features, as well as the differences and pros and cons of these two most popular hosting type. Let's figure out which option is best for you.
Shared Hosting and VPS Hosting In A Nutshell
To choose the right hosting type, you first need to know what features each of them offers. Don't worry if you're a beginner and have no idea what either of these hosting types is. You'll become an expert in just a few minutes!
What is Shared Hosting?
Shared hosting is the type of hosting, where you share server space and recourses such as CPU, disk space, and memory, with other users. 
Shared hosting is the cheapest option available, which is great for small websites that don't get large amounts of traffic. Unfortunately, since you won't get dedicated recourses, your site might be slowed down. What is more, you will be slightly more vulnerable to security threats. If a neighboring website hosted on the same server gets hacked, may be at risk as well.
Keep in mind that managing a website on a shared hosting server is much easier, compared to VPS. So, if you are a beginner webmaster, who doesn't have a big budget and isn't expecting a lot of traffic – shared hosting might be a perfect choice.
What is VPS?
With Virtual Private Server (VPS) hosting, you'll still share the server with other webmasters but will get dedicated resources. Meaning other sites on the same physical server won't affect your website's performance, as all partitions run as separate instances. Of course, VPS comes at a higher price.
Another thing to note is that VPS offers greater control over your project, but it turn requires you to have more technical knowledge. We'll cover this later.
If the price isn't an issue for you and you are planning to scale up your site, VPS is the way to go.
Are There Any Other Types?
Aside from Shared and VPS, there are two more common options – Dedicated Hosting and Cloud Hosting.
With dedicated server hosting, you will have a whole server for you alone. That means all the available resources will be for you to utilize. While this is considered to be one of the most powerful options with the most control available, it will be more expensive.
Meanwhile, cloud hosting uses multiple servers to balance the traffic and maximize uptime. It is inspired by cloud computing technologies that allow a large number of machines to work as a single system. If one server fails, another will aid in keeping everything running.
In theory, cloud hosting offers the highest and most seamless scalability of resources but doesn't offer as much control as VPS or Dedicated servers.
Both Dedicated and Cloud hosting are excellent services. However, this article will only be focusing on Shared hosting and VPS hosting because they are the go-to options for newly started projects.
Shared Hosting and VPS Hosting: A Deeper Look
Since knowing the general definitions is not enough, I will provide you with a more in-depth look at both shared and VPS hosting. I'll focus on security and performance, control, server administration, scalability, and pricing.
Security & Performance
Just like living in an apartment, when using Shared hosting, there can be "noisy neighbors" who might cause problems for other sites.
Your site might be affected if another website on the same server is compromised. Although it is worth mentioning, that with modern shared hosting, these types of issues are incredibly rare.
Other than this, the other downside lies in the shared aspect. If other websites eat up too much shared bandwidth, your website might get slowed down.
However, you can avoid this problem by using VPS, as each partition has dedicated resources. In addition, each VPS has its own IP address and other additional fail-safes that practically guarantee, that your site won't be affected by security threats, even if others on the same physical server are. 
Control
If you are looking for more advanced options and controls for your website, VPS hosting is more suitable shared hosting. VPS hosting grants you root access to the server. The most common type of VPS hosting is Linux-based, so root access grants you the ability to install your preferred CMS and web server software, like Apache or Nginx.
On Unix-based systems, many operations will be performed by using Unix console commands. While they might seem intimidating at first, learning them isn't that hard. Mastery, on the other hand, may take years.
VPS hosting is the closest thing to building your very own server, and setting it up the way you like it, but for a fraction of the cost. However, the OS of the server itself is dictated by the infrastructure the hosting provider builds the servers on. 
In contrast, shared hosting is much easier to manage, as you will typically use cPanel, or similar web-based software, that offers a simple to navigate GUI. Of course, the drawback lies in flexibility. You are in charge of far fewer aspects of your project.
Server Administration
If you choose to host your website with Shared Hosting, there will be little to no technical maintenance required by you. Shared Hosting providers will set up the shared server, install and upgrade necessary software like the cPanel, and monitor the servers to avoid downtime.
This effectively takes care of the backend, leaving you only to build the frontend. This is called semi-managed hosting.
Shared Hosting can be your option if you want to start a website, yet don't have a lot of technical knowledge and want to ease into webmastering.
On the other hand, VPS Hosting is slightly more complicated when managing resources. Hence, it needs more advanced knowledge to administrate and manage. Fortunately, VPS Hosting lets you customize and configure applications and software to increase your website's performance. You also get root access as mentioned before, and get to tailor parts of the backend to your needs.
Scalability
Not only is VPS Hosting more customizable, but it is also easier to scale compared to Shared hosting. VPS upgrades can be implemented quite quickly, and in the long run, offer a higher resource cap.
While Shared hosting is a good option for a short-term plan, your site might get scalability issues depending on how big your website grows. If your blog or site reaches enterprise status or experiences high traffic periods frequently, even the best shared hosting plans may not be enough to cover you.
Pricing
Shared hosting is cheaper than VPS.
Yet a greater price comes with more significant advantages. To demonstrate, I'll elaborate on the differences between  Shared Hosting and VPS Hosting that Hostinger offers. Here's how the VPS pricing plan looks: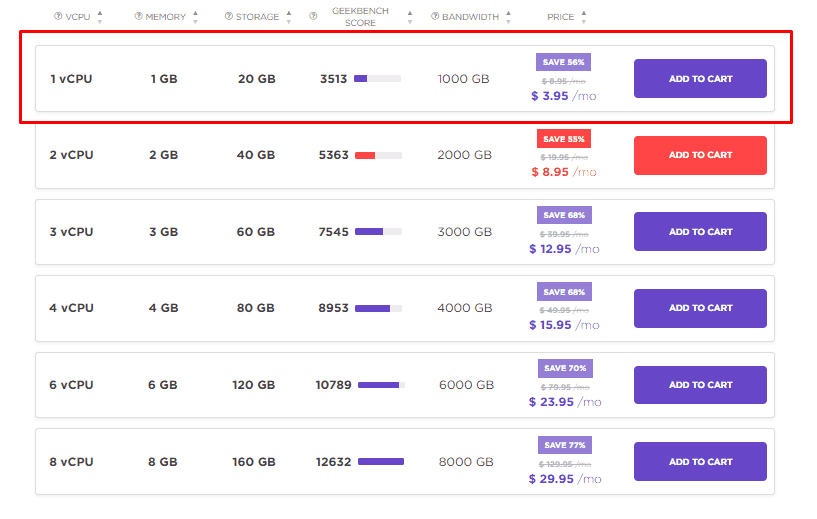 And here's the pricing plan for Shared Hosting service: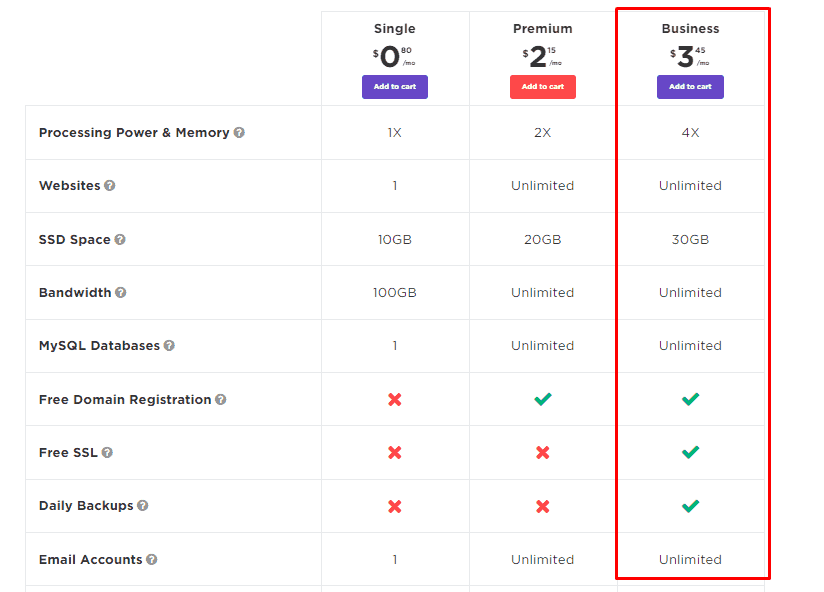 To drive the point home, I highlighted the Business Shared Hosting (the most expensive shared option) and the cheapest VPS hosting plan. As you can see, the cheapest VPS option is slightly more expensive than the top-tier Shared Hosting one. You might also be confused as to why the bandwidth is limited for the VPS hosting.
VPS Hosting saves a part of the server exclusively for you, as we mentioned before. You're receiving improved reliability and much more control. That's the main difference that justifies the price.
Which One Is Better For You?
Now that we know the key differences let's figure out which option might be best for your project.
Shared Hosting
Let's quickly review what we learned, to get a better understand of who Shared Hosting works best for:
The Good
Shared Hosting is the more beginner-friendly hosting service.

Shared Hosting provides a standardized setup and covers backend management.

Shared Hosting requires less technical expertise.

Shared Hosting is the least expensive of all hosting options.
The Bad
Shared Hosting often has less consistent bandwidth reliability.

Shared Hosting is prone to slowdowns when there is high traffic.

You have limited access to the backend.

Shared Hosting doesn't grant you root access or a dedicated IP.
The Verdict
Shared Hosting is perfect for you if:
You want to make a blog or personal website.

You are making a small to medium-sized website.

You have a tight budget.

You don't have advanced tech knowledge.
VPS Hosting
The Good
VPS Hosting grants root access and more control over the backend.

You can make more customizations based on your needs.

You have a set amount of all resources that are dedicated to you alone.

It is not affected by other partitions hosted on the same physical server.
The Bad
Comes at a slightly higher price.

Requires more technical knowledge to manage.
The Verdict
You should strongly consider opting for VPS hosting if:
You are running a business and plan to expand it in the future.

You have a larger budget and want to invest in your site.

You are expecting a high-traffic website that must have optimal speed and bandwidth.

You are creating a site for companies who are expecting a significant traffic increase in the near future.
What is The Best Time for an Upgrade?
If you're already using Shared Hosting and enjoying it, you might wonder when is the best time to upgrade to VPS Hosting. You can start to get serious about upgrading if your website when:
Your site needs more options and customization that VPS provides with root access.

You've been having a dramatic rise in traffic, and it is still growing.
Conclusion
The hosting you choose is heavily based on what you need. As we've seen above, a VPS Hosting provides you with more reliability and control, while Shared Hosting offers easier controls, but is less powerful and reliable. 
Before you choose your hosting service, you should consider looking through some important indicators I've covered in-depth previously:
Security & Performance.

VPS Hosting is less prone to the instability that comes from other sites on the same server.

Control.

VPS Hosting lets you perform more customizations through root access. But shared hosting is easier to manage.

Server Administration.

Using VPS requires more technical knowledge than using Shared Hosting.

Scalability.

VPS is easier to scale compared to Shared Hosting.

Pricing.

Both options have different prices with different benefits, but Shared Hosting is the less expensive option.
In the end, the choice depends on whether you are ready to manage a server with many more options and to pay slightly more for it. Shared Hosting is more than capable for sites that are just starting out. I hope this guide on Shared Hosting vs VPS hosting helps you make an educated decision.